By JB on Aug 22, 2008 in General, Getting Started | comments(1)
We all plan to be successful, at least I hope we do.  I would argue that most people don't set out to intentionally fail. Sometimes it certainly appears that way, but I think if we are honest with ourselves, they have other reasons, and how they are measuring success may be different from ours.  But that's not what I'm getting at.  The question I should be asking is, do you have a plan to be successful?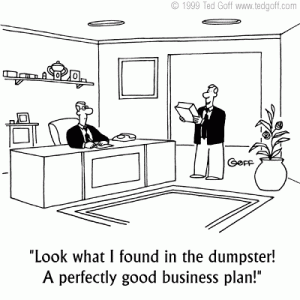 We sit down and plan so much of our lives. . . what we are doing today, what we are buying at the grocery store, how much money we are putting away in savings. . . the list could go on.  Growing up you may have had something that you wanted to do with your life, or a career that you were interested in and you did whatever it took to be successful.  Some things take more preparation than others; for example being a doctor requires more school than being programmer.  It may be that there are certain things that you are just naturally better at.  I have a friend who can take anything apart, figure out what's broken, and put it back together again.  I always end up with parts left over when I try that.
The thing that surpises me though is that there are so many cases of people who look at blogging or starting an online business as an easy way to wealth, and yet don't seem to put a similar amount of planning in to make it happen.  More times than not, their blog or business fails in the first few months, and they end up shutting it down or selling it for a few hundred dollars.  There are always going to be exceptions, but in general I believe to be successful, you need to figure out what success looks like to you and create a strategy to get there.  Here are a few steps to get you started: Continued