By JB on Aug 7, 2008 in Wordpress | comments(0)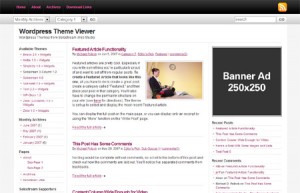 Choosing a theme for your blog is much like choosing a name for your child.  The good news is that once you choose one, it's typically very easy to install it.  Notice I said "install"… not "configure"… but we'll get to that.
There are a tremendous number of themes available for you to install for free, and probably an equal number of themes for sale.  Don't assume that just because a theme costs money, that it's the better theme.  Depending on the needs of your blog, a free theme may fit just right.
I typically start out looking for a free theme over at the WordPress Theme Directory.  There are a number of themes available for free and you can search by many criteria. I'd recommend first browsing through a number of blogs to get a feel for what you like and don't like. This will help you narrow down your search criteria.