By JB on Aug 22, 2008 in General, Getting Started
We all plan to be successful, at least I hope we do.  I would argue that most people don't set out to intentionally fail. Sometimes it certainly appears that way, but I think if we are honest with ourselves, they have other reasons, and how they are measuring success may be different from ours.  But that's not what I'm getting at.  The question I should be asking is, do you have a plan to be successful?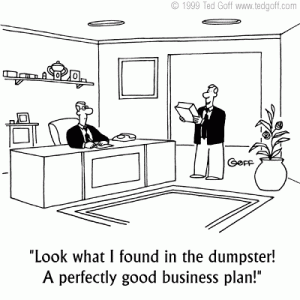 We sit down and plan so much of our lives. . . what we are doing today, what we are buying at the grocery store, how much money we are putting away in savings. . . the list could go on.  Growing up you may have had something that you wanted to do with your life, or a career that you were interested in and you did whatever it took to be successful.  Some things take more preparation than others; for example being a doctor requires more school than being programmer.  It may be that there are certain things that you are just naturally better at.  I have a friend who can take anything apart, figure out what's broken, and put it back together again.  I always end up with parts left over when I try that.
The thing that surpises me though is that there are so many cases of people who look at blogging or starting an online business as an easy way to wealth, and yet don't seem to put a similar amount of planning in to make it happen.  More times than not, their blog or business fails in the first few months, and they end up shutting it down or selling it for a few hundred dollars.  There are always going to be exceptions, but in general I believe to be successful, you need to figure out what success looks like to you and create a strategy to get there.  Here are a few steps to get you started:
Define Success:  Success does not mean the same thing to everyone.  I see ton's of bloggers who make a few hundred dollars per month and are content.  For me, that wouldn't pay for the groceries or gas in a month, but many are younger and don't have the overhead that come with a house, cars, and a family.  It may be that success to you is only partially financial, and instead it's the lifestyle that it affords you that you are really after.  Figure out what that looks like to you.
Write It Down: If you are like me, you are constantly coming up with great ideas to make your business/blog/life better.  Unfortunately, if you are like me, most of those great ideas are lost before they ever come to fruition. As you start to develop a plan for success, make sure that you capture it in writing.  This not only helps solidify it in your mind, but it gives you an easy way to reference back and make adjustments as necessary.  With this site in particular, I felt I needed to sit down and outline what I wanted to write about so that I could stay focused and on topic.  I created an outline for the types of topics and articles I want to write, and I can't even begin to explain how refreshing it was to be able to put that somewhere and free up that space in my mind for something else.  It's probably only 60% there, and I'm sure I'll write about items that aren't on topic or on that list, but at least I have a baseline to work from.
Make It Complete: As I wrote the section above, it occured to me that some might see that list and think that is what I'm talking about when I say create a plan.  It's not.  That is just part of the plan.  Depending on your site, you need to think about things like how much time you are going to invest in your blog,  how much money and how it will be allocated, how are you going to attract people to your blog and what will make them want to come back.  You need to think about how you will generate revenue from your blog if that is part of your strategy and you need to be realistic.  All of the same principles you apply to building any other business can apply to your blog.  You can develop a business plan and a marketing plan and a budget and I guarantee that you will be more successful because of it. That being said, the level of planning should be in line with what you want out of your blog.
Talk To Others: I learned a long time ago the value of getting outside feedback.  It's so easy when you are passionate about something and right in the middle of it to neglect certain areas.  I've found that as I talk to others about my ideas that they typically ask me very simple questions that I don't have an easy answer for.  In the beginning I used to make up something off the cuff and move on, but as I matured I began to realize that those were probably the areas that I was most neglecting.  As you develop your plan, ask others what they think.  Talk to people who have nothing at all to do with your topic or blogging and you'll be amazed how many holes they can find in your plan.  Don't discount those holes! Fix them.
Embrace Change:  After all that planning, it will be easy to get so structured that you don't see the tide is coming in.  Pay attention to trends in your market.  When things don't work out the way you anticipated, adjust and jump right back in. Your plan should be fluid and you should review and adjust it periodically to ensure that it is still appropriate for your current situation. 
Hopefully this will help you be more successful.  I can guarantee that the time you spend planning will pay off in the end.