By JB on Aug 7, 2008 in Wordpress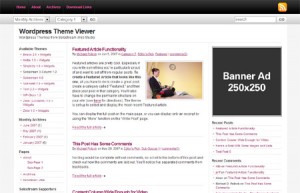 Choosing a theme for your blog is much like choosing a name for your child.  The good news is that once you choose one, it's typically very easy to install it.  Notice I said "install"… not "configure"… but we'll get to that.
There are a tremendous number of themes available for you to install for free, and probably an equal number of themes for sale.  Don't assume that just because a theme costs money, that it's the better theme.  Depending on the needs of your blog, a free theme may fit just right.
I typically start out looking for a free theme over at the WordPress Theme Directory.  There are a number of themes available for free and you can search by many criteria. I'd recommend first browsing through a number of blogs to get a feel for what you like and don't like. This will help you narrow down your search criteria.
How much design and coding experience you have may also play into the picture. If you are an avid coder, then you may look for something that is basic and can be built upon by you. If you have no experience at all, then you probably want something that is ready to go exactly how you want it out of the box. 
A third option would be to hire a developer to either design a custom theme for you, or modify an existing one.  This will probably be the more expensive option, but does offer the benefit of a fully customized theme.  A number of blog owners who like to change their themes periodically will take this route and then release their older themes either as paid themes or free themes with links back to their site.  Keep that in mind for marketing later.
Some things to consider when looking at themes:
Ease of Navigation: Will your visitors be able to move around your blog easily
Layout: Do you want three columns, two columns, a big header? What kind of information will you make available?
Advertising: If you intend to monetize your blog, then be sure to evaluate where you intend to do this.
Also, don't forget that content is the much more important overall than your theme.  It's great that you have a flashy new theme with all the bells and whistles, but if you don't have something that will keep your visitors coming back, then it's wasted.  This may mean choosing an interim theme… something to get you by while you build your presence. 
As I stated above, there are hundreds or thousands of resources for themes. The easiest thing to do is a google search for WordPress Themes, or if more appropriate "Free WordPress Themes".  Links to some sites I've used are below: